Sometimes, when consignment imports are automatically resolved, it is advantageous to have them automatically get created as consignments without having to review the import and create the consignment manually.
Client Partners have an Import Settings card that allows options to be set to determine this.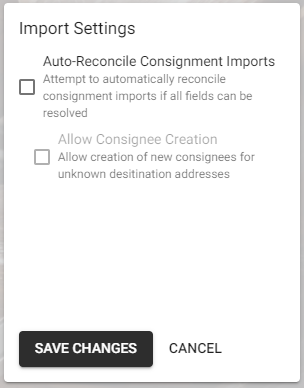 The Import Settings card in a Client Partner
Auto-reconcile consignment imports
Turning on the Auto-Reconcile Consignment Imports option means that Consignly will attempt to create a consignment automatically if all the data in the import can be successfully resolved.
This means that if an import is formed right, the consignment can enter the Pending Imports queue, get processed by Consignly, and have the consignment created automatically.
Allow consignee creation
Activating this setting will make the second option available for selection, too: Allow Consignee Creation.
Turning on this option will let Consignly automatically create a consignee using data provided by the import. In order to create the consignee, the consignee name along with all address data (including latitude and longitude information) must be supplied.
An example where this is useful is a Shopify integration. Some Client Partners running Shopify sites will connect their Shopify to Consignly via a Zapier integration. When setting up the Zap, address information including latitude and longitude information can be passed onto Consignly allowing the consignee to be automatically created without user intervention.