Voiding a Consignment
If you have created a consignment by mistake or encounter a situation where for one reason or another the goods are either never received or never sent then you may choose to 'Void' the consignment.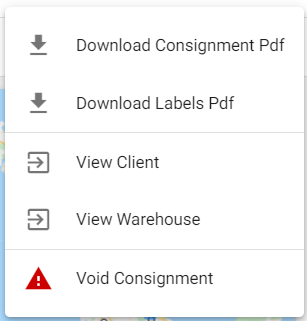 Voiding a consignment is essentially like 'cancelling' it. When you void it, the consignment becomes locked and you cannot make any changes - except for adding notes. Any of the product lines added to this consignment are also voided.
You cannot undo the void action so Consignly will ask you to confirm this action before you commit to it.

For a consignment to be voided, it cannot be in a picked or received state. If you need to void a consignment in either of these states you must first roll it back to at least 'Ready to Pick' or 'Ready to Receive' first. Trying to void a consignment without doing this will prompt the following message:

If the consignment has already been 'Closed' and charges have been raised the process of voiding will not affect the charges and therefore you will need to update/delete these charges from within the partner profile transactions list.