Consignly supports the NZ and AU Hazardous Substances and Dangerous Goods classifications. To get started with Hazardous and Dangerous Goods, make sure your Consignly subscription has the feature enabled.
Consignly supports Hazardous and Dangerous Goods by allowing you to choose which standards your organisation intends to support.
Consignly offers standards that define classifications of product for both storage (hazardous substances) and transport (dangerous goods). If you are transporting dangerous goods, then ensuring you have both the standard for storage and the standard for transport added to your organisation is useful.
If your organisation spans jurisdictions, then you might like to support multiple hazard and dangerous standards within your organisation.

Organisation Settings illustrating a Hazard Standard applied to the organisation
After the organisation standard for hazardous substances and dangerous goods support are chosen, then Consignly allows you to set which standards should be in force for each of your warehouses.
If you have a warehouse in Auckland, NZ and a warehouse in Sydney, AU then you would typically configure the Auckland warehouse to support the NZ standards, whilst the Sydney warehouse would support the AU standards.
Consignly allows a standard to be set for storage, and a standard to be set for transport for each warehouse.
The storage standards are used to support storage rules, whereas the transport standards are used to support class information on the DG Declaration Form for goods that leave a warehouse.

Warehouse with an organisation standard applied.
Defining the support at the warehouse will allow you to correctly configure any class restrictions you wish to implement within your warehouse.
Most organisations that store Hazardous Substances will use Zones within Consignly to help support their restrictions.
Setting up zones will allow your organisation to allow or deny access for particular products into that zone. Locations can sit within a zone, and the combination of zone rules and locations will help Consignly to enforce the rules that you configure. For example, products will not be able to be received or transferred into locations that have zone rules configured that don't support that product.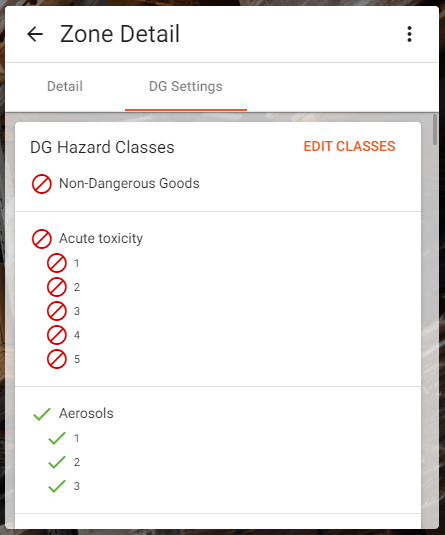 Rules describing the type of product allowed into a zone
Finally, Client Partner products can be configured to support Hazardous and Dangerous Goods. Each of the products can optionally have DGs enabled, and subsequently can have UN number, Hazchem code and other Hazard / DG information entered.

Product list showing DGs

Card illustrating the hazard specifications for the DG product
For each Standard that your organisation supports, the product can be configured with the appropriate Class and Category information for that product.
For example, a product in New Zealand might be considered Hazardous to the terrestrial environment: Biocidal action, and can be configured as such. In Australia, this hazard class is not supported by their standard, and so the hazard class and category can be left empty.

Hazard classifications for a product that exists across multiple standards
A product can have multiple classifications assigned to it.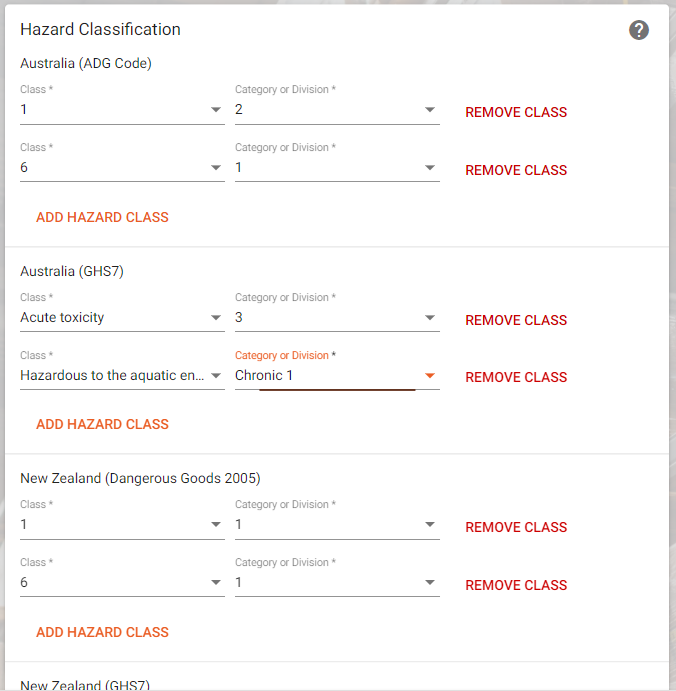 A card illustrating a product with multiple classifications for each standard supported.