Cross-docking is a logistics strategy that involves unloading goods from an inbound transport and then loading them onto an outwards transport for shipment to their final destination.
In a typical cross-docking operation, the incoming shipments may be received to a staging location and then sent on an outwards consignment in full.  Sometimes goods are received, and multiple outwards consignments may be created to send the goods to different destinations.
How cross docking works in Consignly
If your subscription supports it, access the cross docking function in Consignly from the action menu on the inwards consignment.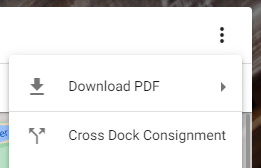 The cross docking item in the action menu for an inwards consignment
Consignly will pre-load an outwards consignment creation blade for you, based on the details of the inwards consignment, including reference numbers.
Any product that has been received on the inwards consignment and is still available will be surfaced up for selection on the outwards consignment.
Simply select the destination and the product(s) in order to create the outwards consignment.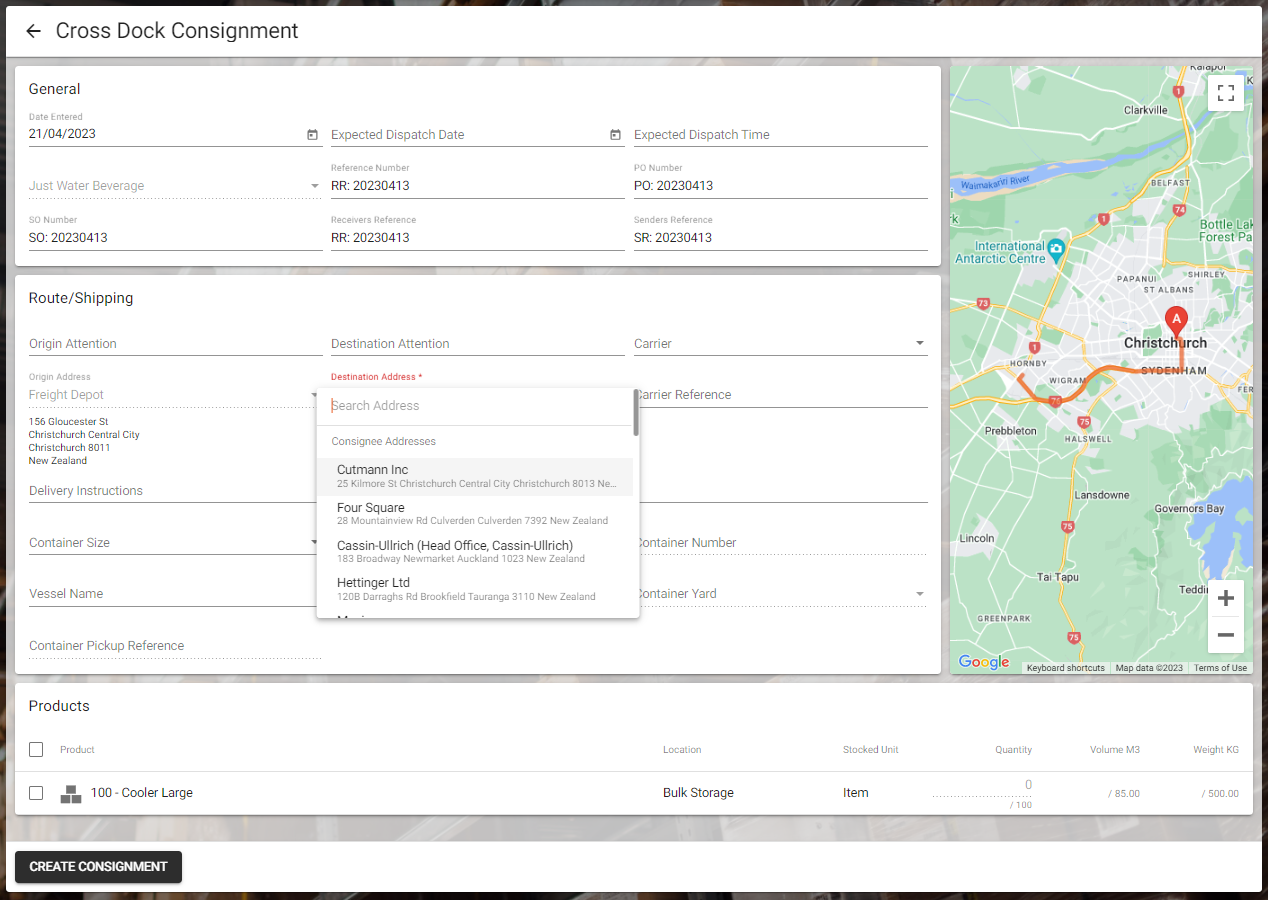 The cross dock blade in Consignly.  Note the product available for the outwards consignment is limited to the amount receipted in from the inwards consignment.
All-in/all-out
Consignly supports an all-in/all-out arrangement favoured by Freight Forwarders, allowing users to create an outwards consignment with all the product that was received on the inwards consignment.  This eases data entry by pre-populating information and reduces data entry errors.
Partial receives
Because the cross docking feature surfaces up product that has been received on the inwards consignment, it's possible to partially receive product from the inwards consignment and cross dock that product to an outwards consignment.
Users can continue to receive remaining product from the inwards consignment, creating another cross dock outwards consignment for that product at a later date.

55 of 100 items received in Consignly

Users have the ability to cross dock the amount received and cross dock more later.
Multiple outwards consignments
The cross docking feature in Consignly allows you to create as many outwards consignments as necessary.  It's possible to receive some or all of the inwards product in, and create multiple outwards consignments for part of the received product.  This is useful if your received product is being transported to different destinations.