Consignly Connect supports both sending and receiving consignments between the connected organisations.
Receiving consignments from a sending organisation
The configuration starts with organisation that wishes to receive goods into their warehouse from the sending organisation.
You'll want to indicate the Client Partners you've agreed to receive consignments for from the sending organisation.  For each of those Client Partners, you'll indicate the warehouses that you're going to make available to the sending party.
Expose the Client Partners
Visit the Inwards Consignments tab, and start adding the Client Partner(s) that you wish to receive product for.
As you add the Client Partner, indicate the warehouses that you're going to allow the sending party to send consignments to when working with that Client.
The sending party will be able to configure their end of the connection to indicate which Client Partner at their end matches the Client Partner you've opened up to them.
When both you and the sending party have configured each end of the connection, the sending party will see your selected warehouses in their destination address selector for any outwards consignments they create for that Client.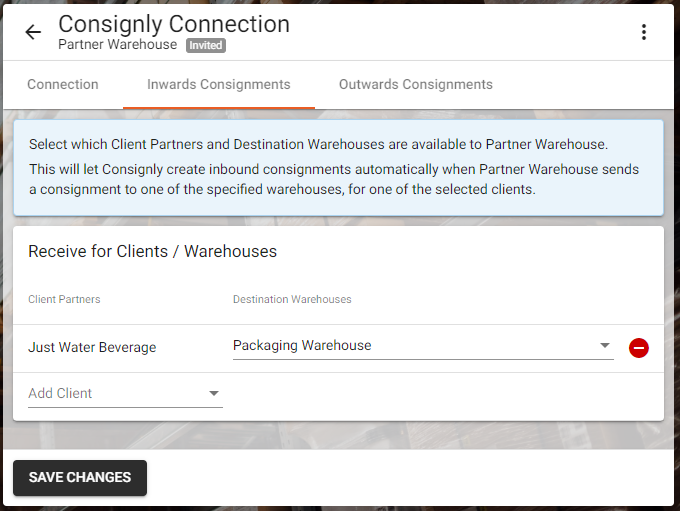 Selecting the Client Partner(s) and the warehouses you wish to receive into for that Partner