Warehouses
This article will cover setting up your warehouses. This includes adding a warehouse, defining your warehouse address and setting up locations within your warehouse.
The warehouses section of the menu is where you will find information about your warehouse(s). Including contact details, real time information about the products that are stored there, your warehouse locations and any information about product batches that are in quarantine.
Adding a warehouse
To add a new warehouse in Consignly click the

icon. First, you need to give your warehouse an easily identifiable name. For example 'Christchurch Warehouse'. Input the details about your warehouse including a code, phone number and main contact details.
Make sure you select the correct time zone for the warehouse, as storage charges will be calculated based on events that happen in the warehouse's local time.
Learn more
.
Defining the warehouse address
To identify the address of your warehouse , begin typing in the address and Consignly will begin offering address options including those that are closest to you. If you are unable to locate your address you can manually pinpoint it by clicking the locator here and selecting a point on the map. Once you have selected your warehouse address, click Create Warehouse.
Setting up warehouse locations
When your warehouse has been created you may wish to add locations for specific goods or activities. You can do this in the locations tab. By default warehouses are configured to use bulk storage but you can enable this feature by clicking Enable Storage Locations. You can add locations one at a time by clicking the Add Location button. First you will need to select the location type, if you are creating a Picking Location you will need to specify the row, bay, level, space, and a barcode if applicable.
You can also create a bulk storage location. Enter a name and enter a barcode if it applies. For example, bulk goods area 1. Alternatively, if you have multiple picking locations to add, Consignly makes it easy to add these in bulk using the generate button. Simply enter the row, number of bays, levels and spaces you would like to add - the generator will create the individual locations, skipping locations that already exist.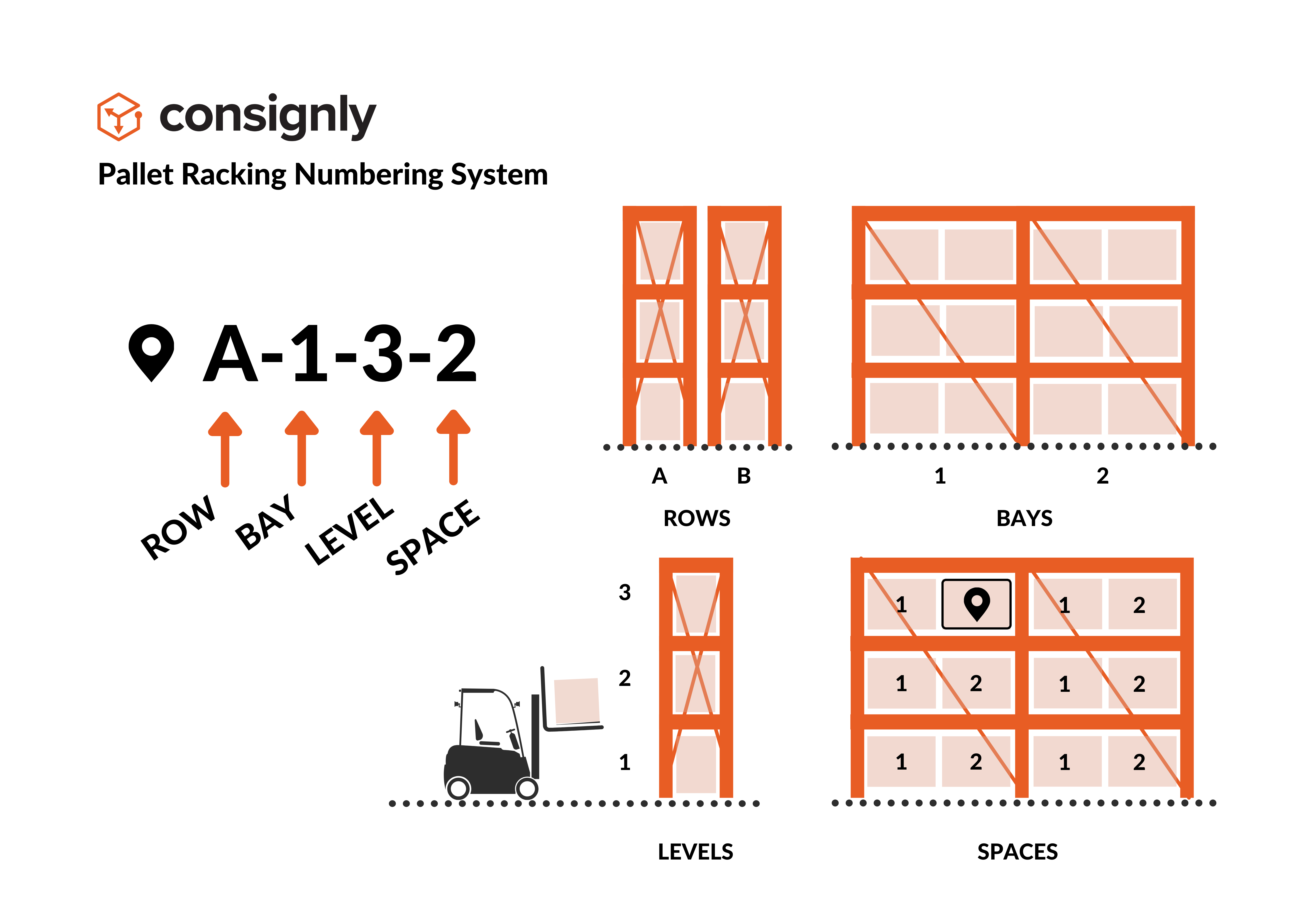 An example to illustrate the Consignly pallet racking numbering system.