Carrier Partners
Note: Some changes to carriers are rolling out gradually. We appreciate your patience as we make them available to everyone.
This article discusses how to set up your Carrier Partners, including adding a new carrier partner, completing the partner details and setting up freight rates.
A partner refers to the business or clients that you work with:
Client Partners: Partners that you move and store goods for.
Carrier Partners: Partners who carry goods to and from their destinations.
Creating a new Carrier partner
To create a new partner open Partners menu.
In the Partners Index tap the Add button and choose Create Carrier.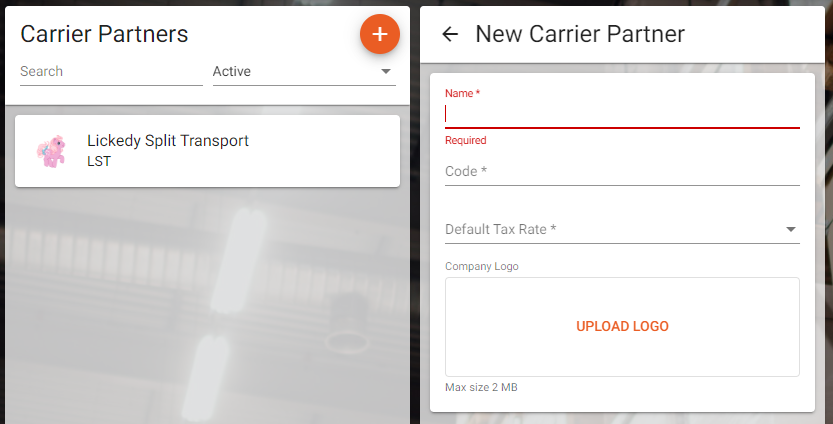 Enter the name, and code (this must be unique - no two partners in your organisation can have the same code) and tap Create Partner.
Now you can see details about the Carrier.
Under Custom Unit Types we can select any additional unit types our carrier will be transporting.
Weight KG, Volume M3, Item Quantity, and Virtual Pallets are all included in consignments by default.
Custom Unit types can be added by tapping Add Unit Type.
Enter a name and tap Create Unit Type.
Freight Settings and Rates
Tap the Freight tab.
From the Freight Settings card, you can determine how you would like Consignly to proceed if more than one freight rate applies for a consignment assigned to this carrier. The options available are:
Compounding
Least Expensive
Most Expensive
You may create freight rates for the Carrier partner. You do this in the Freight Rates card.
Once freight rates have been created, Consignly will automatically determine the rates for a consignment with this carrier partner and can alert you if the freight margin falls below certain percentage or dollar value.
To create a new Freight Rate choose Create Rate.
Suppose you wanted to set up a freight rate to transport kegs from Christchurch to Dunedin:
Begin by entering the destination and origin localities; these are the areas that you specified in the Localities section of the Organisation menu.
If you discover a locality that you haven't yet defined you can add it by opening the Organisation section in the menu and selecting Localities.
Existing localities will present as a drop down list, but you can begin typing to search for a specific locality.
Once entered, your two localities will show on the map.
Optionally select the warehouse you want the rate to apply to.
Enter the particulars for the rate. Consider using dynamic particulars to get contextual aware descriptions for your transactions.
If available, enter any advanced accounting requirements.
Next, select the metric type to rate on, the following types are available:
Per Quantity
Per Tonne
Per Tonne with Cubic Conversion
Per Cubic Metre
Per Container
Per Virtual Pallet (Consolidated)

Consolidated virtual pallets calculates the virtual pallets required for the products assuming all items could fit together on one pallet before the next pallet is used. This may result in a number of pallets that include a decimal to represent part of a pallet.

Per Virtual Pallet (Part Thereof)

This metric type will consider whole products only, and assumes a pallet cannot be a mixed pallet.

Per pallet

This metric type will consider physical pallets that have been defined

Per Custom Unit Type
Next, you can specify the rates for this freight type and route.
Select the base charge if applicable and a minimum charge.
Select whether you would like to use breaks for this rate, if yes, you will see that a new break rate card opens for you to select your units up to, and your charge per unit - you can create another by clicking Add Rate Break.
When you have completed the details, select Create Rate.
Continue to add freight rates for all of your carrier partners routes and metric types.