Attributes can be added on Inwards consignments to tag product lines or add further qualities to a product that is coming into a warehouse.
Working with attributes on an Inwards consignment
After Product Attributes is enabled for a Client Partner, you can add attributes to product lines on an Inwards consignment.
You'll notice that the Find Products dialog shows an Add Attributes button now.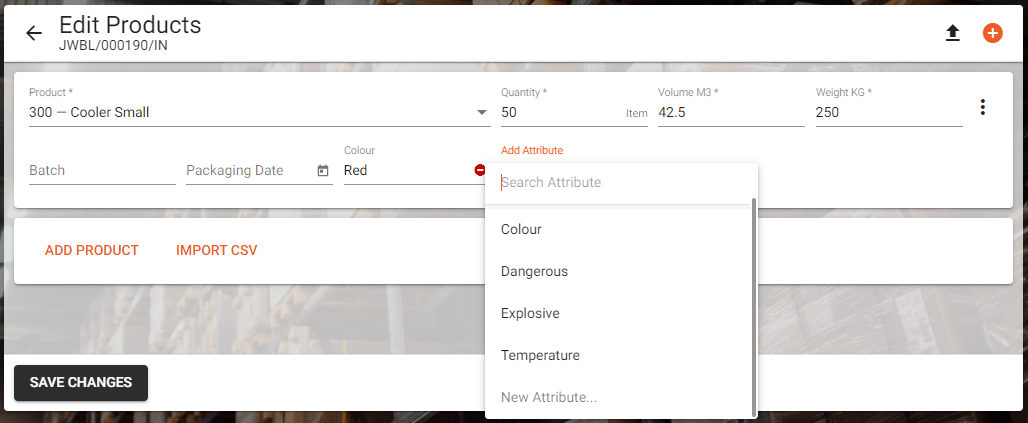 A screenshot showing attributes on the Edit Product mode
You can choose an existing Attribute, and then enter details about that attribute. In the above example, Colour has been selected and Red has been entered for the attribute.
You may attach as many attributes as you desire on the Inwards product line.
A new attribute can be created by choosing the New Attribute... option in the menu. You will be presented with a dialog to create a new attribute which can then be used on any inwards consignments.
Viewing attributes on consignment lines
After you have created an inwards consignment line with an attribute, you'll see any attributes listed beneath the product line.

An consignment line showing a product with a Colour attribute of the value Red
Using attributes for Outwards consignments
When an inwards consignment has committed products into the Warehouse with attributes, those attributes then become able to be used to discriminate products when choosing items to add to an outwards consignment.

Example of adding inventory to an outwards consignment using an attributes filter