As a Consignly user, you may be invited to more than one organisation with your one Consignly account.
If you are invited to another organisation, Consignly will send an invite email to your email address. After clicking the link in the email, you'll be prompted to set up an account, or login with your existing Consignly details.
After logging in and accepting the invite to the new organisation, your account will now have access to both organisations.
When working with Consignly, you will work out of a single organisation at a time. However you can switch between organisations at any time using the organisation switcher.
You can find the organisation you are actively working in, by looking at the top of the Consignly menu.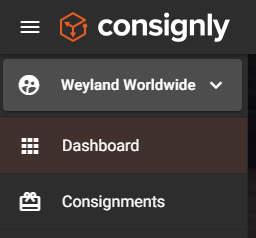 An example of an organisation you are currently working in.
Switching organisations
To switch to another organisation linked to your Consignly account, click the switcher at the top of the menu. You will be presented with a list of other organisations that you have access to.
To change into another organisation, choose it from the list.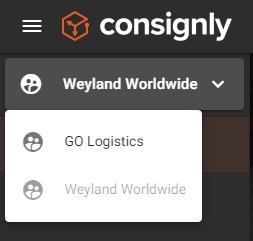 A Consignly account with two organisations. The current organisation is disabled in the organisation switcher.