Storage Charges are raised from the Storage Calculator tab on the Client Partner.

The storage calculator
To calculate the charges, start by entering the period that you wish to raise charges for.
Consignly uses the warehouse's local time to determine what was in the warehouse during the date range.
Learn more
.
Use the quick action buttons to automatically set the date as This Week, This Month, Last Week, Last Month.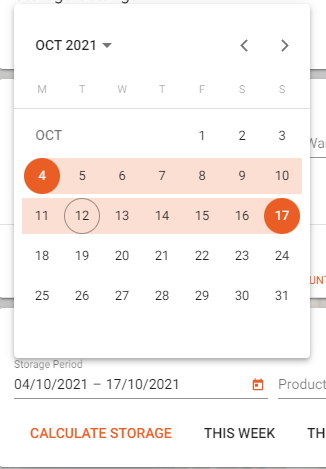 Manually choosing the period via a date range picker
Now that the period is selected, choose Calculate Storage. Consignly will go into each of your active warehouses for the period, and, using the Storage Rates defined on the Partner, it will calculate the charges that should be raised for this Partner.
Consignly will display a graph of the storage for the period. The graph allows you to change the Metric shown, as well as to choose the datasets that the graph represents. This helps you visualise your storage.
Raise Charges
Beneath the graph, Consignly will list the storage charges it's calculated for your warehouses.
If you have Storage Rates that create Separate charges per product, then you'll see a charge raised for each product.
Furthermore, depending on the Revenue Account, Cost Centre, and Tax Rates entered, you may end up with charges raised separated by those Accounting values.
To raise the charges for the Client Partner, choose the Raise Charges button. This will generate transactions into the Financials tab for the Client. These transactions can be scheduled and invoiced.
An example of charges that may be raised for a Client. Note different Revenue Accounts, Cost Centres, and a Charge per Product