When picking a product, it may be inconvenient to pick the product allocated.  If you're bulk stacking pallets, for example, it could be that the allocated pallet is one in the back corner at the bottom of a bulk stack.
In this situation, it might be desirable to substitute the allocated pallet for a different, more accessible, one.
Consignly supports this ability by introducing substitution rules, and a substitution function.
Substitution rules
Rules about what things can be substituted may be defined on a client partner, or at a product level directly.
These rules determine how a pallet, product, or serial number may be substituted at the time of pick.
For example, can you only substitute pallets that have product with the same batch number as the allocated product.
Learn more about substitution rules in product settings.
Substitution function
Consignly allows you to substitute pallets, products, and serialised items by using the substitution function available on the pick screen.
To substitute an item at pick, enter pick mode and choose the action menu icon at the end of the item you want to substitute.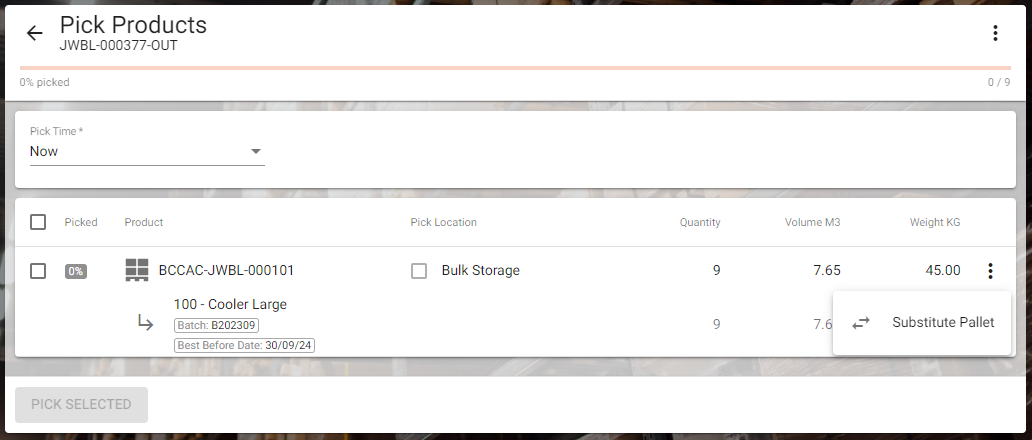 The substitute pallet function available on the pick screen
Substitution suggestions
When choosing to substitute a product, Consignly will present you with the available substitution options.  If an item has no product available that meets the substitution rules configured on the partner, then you won't be able to substitute the item.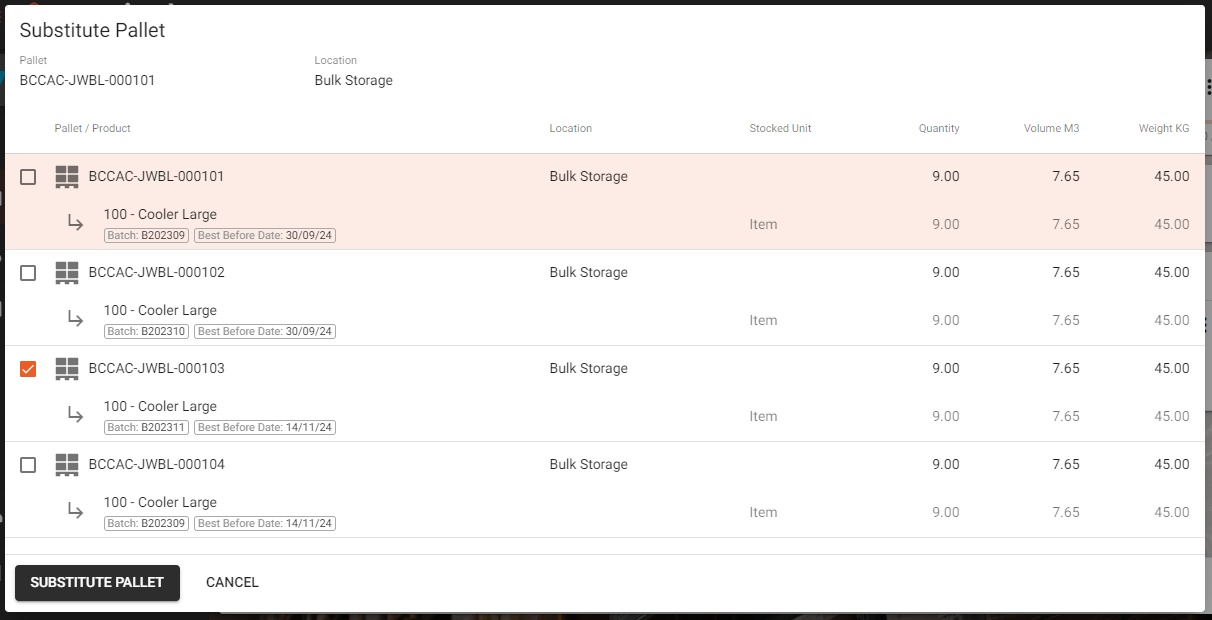 The substitute screen suggesting available pallets to substitute.  The highlighted line shows the originally allocated product, whilst the checked line shows the item we wish to substitute.
To substitute the pallet, product, or serial, make your selection and tap the button to substitute the item for the selection.
Substituting serial numbers
When substituting serial numbers, you need to tell Consignly which serial numbers you are substituting for, by deseleting the appropriate serial numbers from the original allocated items.
This is because Consignly need to know which serial numbers to release the holds from at the time of substitution.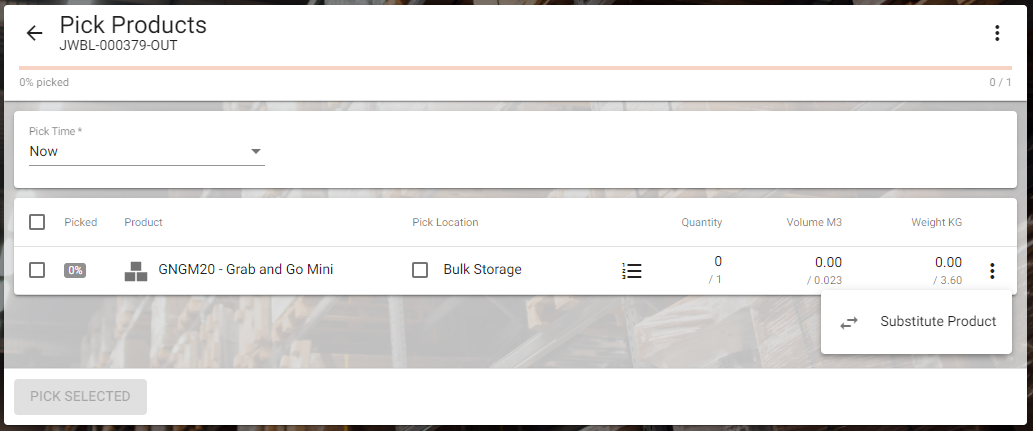 The substitute product function available on the pick screen
To substitute a serial number, identify the serial number you wish to release by tapping the serial icon on the allocated line in the substitution screen.

Tap the serial icon to deselect serials you'll be replacing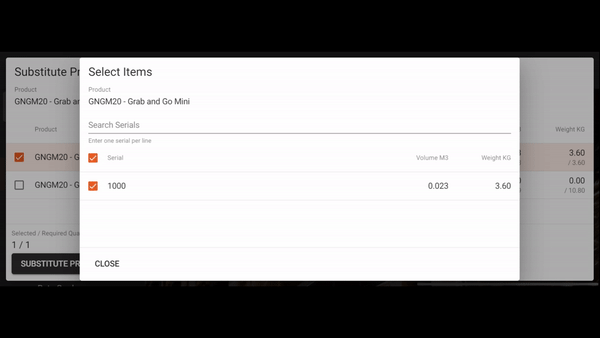 Deselect the serial you wish to release by tapping
Next, tap the serial icon next to the line containing the serial numbers you are substituting and select the serial numbers to substitute.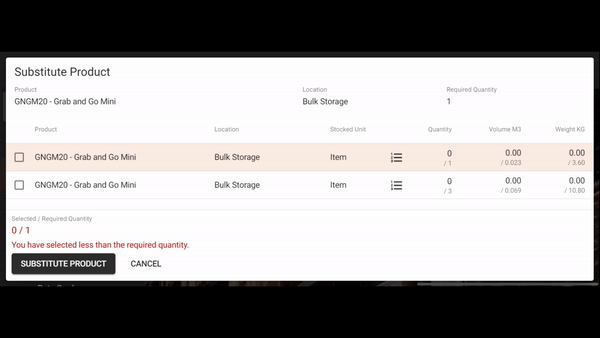 Select the serials to substitute
Errors
When substituting product, Consignly will ensure you are substituting the right amount of items.  If you select a different quantity of product to substitute a message will be displayed explaining the problem.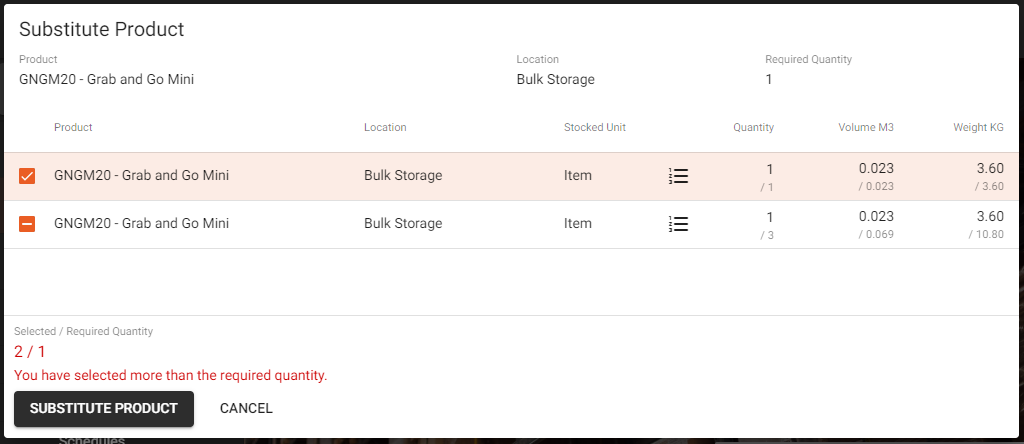 An error indicating an issue with the substitution