In the consignment, moving the Status into Ready to Pick will allow you to pick the consignment product.
A Pick button will become available in the shoulder of the Products card. Choosing this button moves you into Pick mode.
The Pick button in the shoulder of the Products card.
Picking product
In Pick mode, you can select the product you wish to pick and pick it from the warehouse.
An example of picking product
If you cannot pick all of the quantity, then you can expand the arrow and expose more information about the product you are picking.
At this point you can choose to pick a different number of product to what is expected. For example, you could pick half of it now, and then pick the balance tomorrow.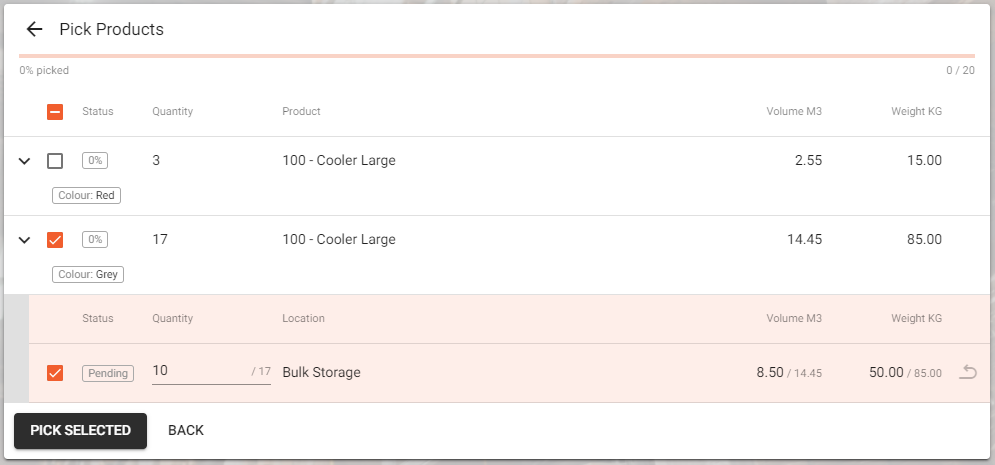 A screenshot illustrating more detail when picking
Pick Product Confirmation
Picking the products will raise a dialog asking you to confirm the date and time the products were picked. These values default to now, however you can change these which is useful if you are backdating pick events.
Shortcut buttons to set the date to today or yesterday are available. The date/time entered is based on the time zone set in your user profile.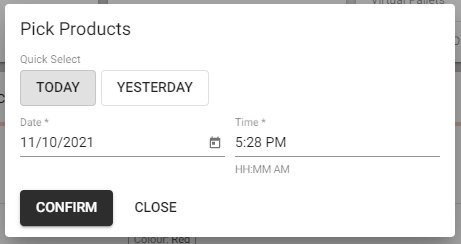 A Pick confirmation dialog allowing you to set a date and time that you picked the product
Pick percent
As picks are completed the percent indicator of how much of a product has been picked will be updated. The percent next to the row will be updated, and in pick mode, the progress bar at the top of the Pick Products card will be updated.
The Pick Percent next to the product line
The progress indicator at the top of the Pick Products card illustrating the percentage picked
Completing and closing the consignment
When the consignment is completed and then closed, Consignly will release holds on any inventory that has not been picked so that product can be added to other consignments.
If the consignment is re-opened and moved back into a pick state, Consignly will illustrate the difference between what was expected and what was dispatched by showing a void line for the balance.
This helps illustrate that the balance of the expected amount wasn't fully picked.
Consignly illustrating that some products were voided
A consignment's metrics will be updated to manual values based on the amount of product that was actually picked from the warehouse if the picked amount doesn't match the expected amount. Metrics affect the charges raised on the consignment, so it is important these reflect the actual values.