An outwards consignment that has moved past the Ready to Dispatch status will dispatch the picked product from the warehouse.
At this point, the product is deemed to have left the warehouse and storage charges will no longer apply.
If product is accidentally dispatched, then it may be necessary to undispatch the product and in turn, unpick the product.
To undispatch a product, start by moving the consignment back into the Ready to Dispatch status.
The Ready to Dispatch status shows you the percent of items picked and also the percent of items dispatched.

The products card showing percent picked and percent dispatched.
To undispatch product, select the action menu at the end of the product line and choose the undispatch option.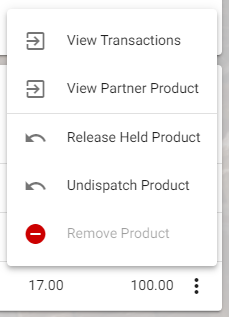 The action menu
Choosing the undispatch option will present you with a dialog letting you choose how much of the product you wish to undispatch.

Enter the quantity to undispatch
After entering the quantity to undispatch, Consignly will show you a difference between the picked percentage and the dispatched percentage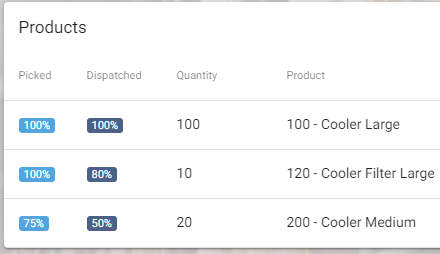 Moving past the Ready to Dispatch status
Moving the consignment past the Ready to Dispatch status will re-dispatch any non-dispatched picked product.
If the intention is to unpick the product, then the next step would be to move the consignment into a Ready to Pick status in order to effect an unpick.
The dispatched percentage
The amount Consignly will dispatch will only ever be as much as is currently picked. Non-picked portions of a consignment will not be dispatched.