If your warehouse has compatible fixed-position label printers, then you can preconfigure those printers for use within the Consignly Warehouse mobile app by using the Printers tab on the warehouse detail.
By preconfiguring a compatible printer, any mobile devices that are connected to the same network as the preconfigured printer will be able to print labels from the mobile app directly to that printer.
Preconfiguring the printer means that users don't have to configure printers within the mobile app themselves.
Learn more about configuring a printer within the mobile app.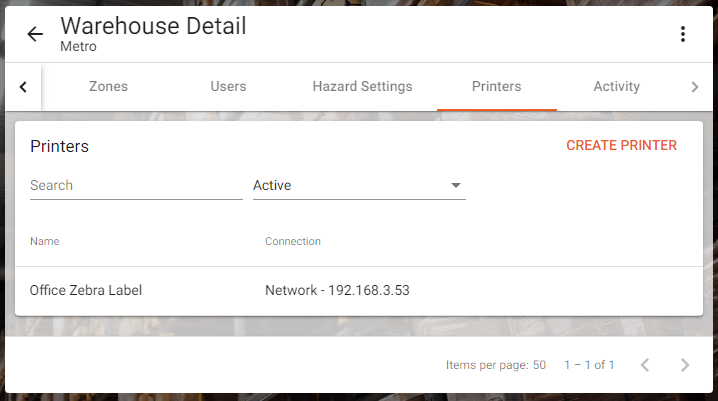 A list of preconfigured network printers for the Metro warehouse.
Create printer
To create a preconfigured printer, choose the Create Printer button from the Printers tab in the Warehouse Detail.
In the new blade, populate the friendly name of the printer, network details, and the print resolution in DPI.
Choose Create Printer to save the new preconfigured printer.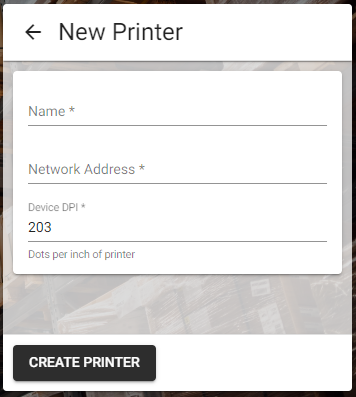 Creating a new printer in Consignly
Deactivate or remove the printer
If you no longer need the printer, you can choose to remove it completely or simply deactivate it.
Deactivated printers won't appear in the warehouse app for selection when attempting to print.
Note that after deactivating a printer it may take several minutes for the mobile app to be aware of the deactivation.
You can choose to remove the printer by selecting the appropriate option from the action menu inside the Printer Edit blade.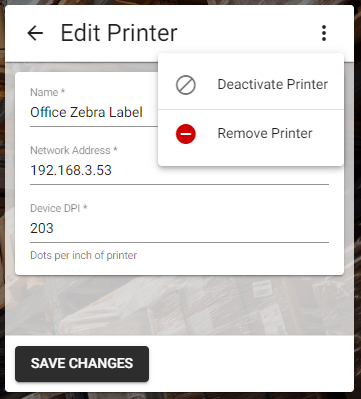 The deactivate and remove options from the action menu inside the Printer Edit blade
Compatible printers
Consignly currently supports the following Zebra printers for in-app printing via the mobile app installed on devices in the same network as the printers.
Zebra ZD400 series printers
Zebra ZQ500 series mobile printers
Zebra ZQ600 series mobile printers
Zebra ZT400 series industrial printers
Zebra ZT600 series industrial printers
Zebra ZT230 industrial printers