If your Consignly subscription supports Dangerous Goods, and you have activated DG standards within your organisation settings, then the next step will be to configure your warehouse to support one of the DG Standards of your organisation.
Choosing the Standards a warehouse supports
Visit your warehouse in Consignly, and head to the Hazard Settings tab.
To set a Hazard and DG Standards for your warehouse, choose the Edit Settings button on the Hazard Settings card, and select the appropriate standards from the drop down.
Be sure to choose a standard to support storage rules, and a standard to support transportation. The storage standard is used to implement warehouse restrictions, whilst the transportation standard is used on DG Declaration Forms.
The drop down will only include standards currently activated for your organisation. If you don't see any standards, or you don't see the correct standard, contact your organisation owner to ensure they've been activated for your organisation.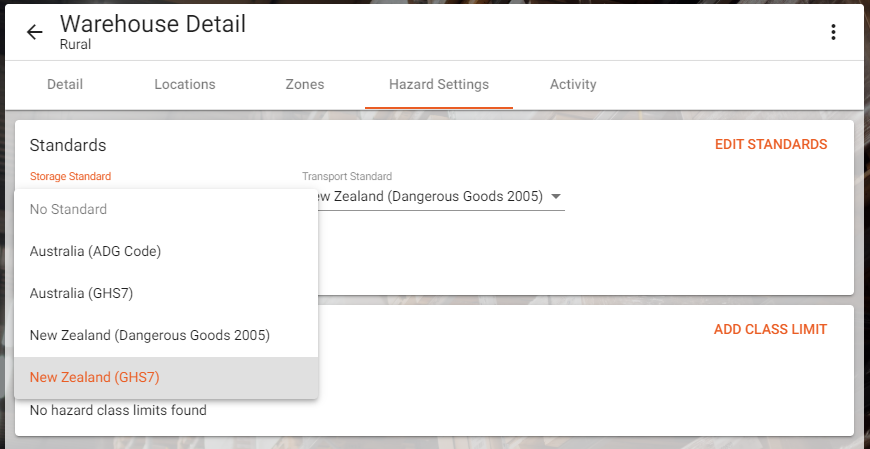 Choosing the Standard for a warehouse in Consignly
Hazard Class Limits
A warehouse can also have class limits defined to ensure that hazardous product coming into the warehouse sits within nominated metrics.
For example, you may like to ensure you have only a certain weight of Explosives within your warehouse.
To set Hazard Class Limits, choose the Add Class Limit button within the Hazard Class Limits card.
In the new blade, select the Hazard Class the limit is for. Optionally set the Hazard Category that the limit applies to as well as optionally selecting a zone that the limit is to be applied to.
Enter a maximum volume or maximum weight for the class limit.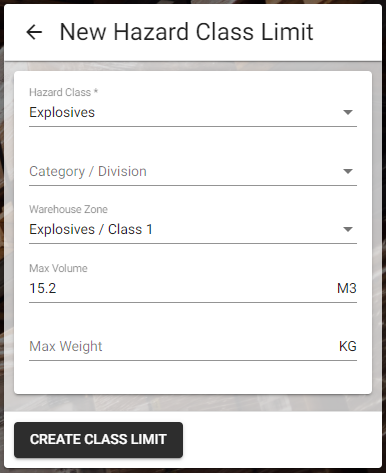 Class Limit in Consignly
Class limits power the the Inventory Hazard Limits widget that can be added to a dashboard in Consignly. This widget will illustrate class limits in force in Consignly, allowing users to act on inventory that exceeds the class limit.
The limits are soft limits. Consignly doesn't prevent users from storing product exceeding class limits.